INTERVIEW WITH MARCO OLMO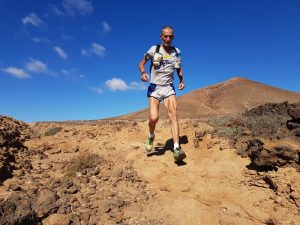 It is our big pleasure to present you the interview with the great legend of mountain running, Marco Olmo.  
The 71 years old Italian ultra runner was present at the trail event, Corfu Mountain Trail 2019 and he gave an interview to Pavlos Diakoumakos. Calm, polite, introvert and ready to share his experiences with us…
"Having a look at his biography while talking to him I realize, that Marco is started to run 40 years ago. Seeing his running history it is obvious that from 1996 until today his career is on a continuous rise with quite a few first places in many international races. 
First place at UTMB in 2006(155km/21h 06mins 06sec) & 2007(163km/21h 31min 58sec) and first place at Transcanaria 2008 (115km/12h 25mins 40sec). Something that seems quite controversial with his biological age. This gives me a good chance to ask him the first question:
J.R: How did you succeed to improve your performance with the passing of the years? 
Μ.Ο: Let's start in a different way. It is not exactly the truth.  I have been running for many years and I had good results but mainly in shorter races (2 or 3 hours long), of course at that time there weren't any ultra races yet.
For me ultra races started in 1996 with Marathon Des Sables (220km/3rd place-20h 47mins 17sec), then in 2005 I finished 3rd at UTMB and won it the following two years, but all this could happen because there weren't any races like those before. 
At that point we had a big conversion about the ultra races, we agreed that those are over now for him and joking about his age (biological and running) we countinoued with the next question. 
J.R.: How was your experience about the first UTMB?
M.O. I arrived there calm and without any support for the race. Usually I have my wife, Renata as my support. Finally I finished 3rd, but I could have done better …if I knew the route. Next year we were better organized, my wife came with me also, I had a picture about the route and I think that the race went well, because I was fine. After that there was a natural fall because I was already 60 years old, and age is relentless in these matters. In spite I finished other races too later, like Marathon des Sables.
J.R.: Is there a difference between the mountain races and desert races? How do you see that?
M.O.: The mountain races are more about muscle pain not like the desert races, that are usually in etaps, and rely more on your brain, you go day by day and don't give it all in one day.
J.R.: If you had to choose? Because you are supposed to be a man of the mountains…
M.O. The race that I ran the most times is indeed the Marathon Des Sable, because I was able to do it according to my age, unlike to the UTMB that I retired from, because it is a very difficult race.  So I like better the desert, because humans tend to seek what they don't have. I have run in many places, in North Africa-Namibia, in Egypt and last time in Mozambique, where I finished first at the age of 69 years old. Just letting you know, that only 15 athletes took part in the race. 
J.R. Do you think, that all those 40 years of running and mountain experiences did help you generally as a human? 
Μ.Ο: I met a lot of people, I got to know many different cultures, many routes, became friends with many of my adversaries – co-athletes with mutual respect during the races. Your adversary is a number on the T-shirt but after the race he is a friend, with whom you can have dinner together. 
J.R.: Did you run to win or for the participation and did this change during the years?
M.O.: First of all you run to win against yourself and then for the participation. At UTMB for example I ran calm, the race went well without the pressure of the sponsors, or a coach…I didn't run demonized to win, but a professional athlete today has different pressure on him. For me it is a hobby and it always was. 
J.R. Finishing UTMB, entering the town of Chamonix, passing through the crowd…You have said there, it was like you have not run at all. Like you had an incredible strength inside and all the tiredness would have gone.
M.O. At that moment you are so overwhelmed from the euphoria of winning, the crowd taking pictures with their cameras, there weren't any smart phones yet (laughing) and you are wondering if they all have come here for me (?!) …
J.R. What do you have on mind when you run so many hours? What are you thinking?
M.O. It is a difficult question, you have the time to see your whole life from the beginning. I personally started from very low and reached the first places. Then you deal with the management of the race, especially on an important race like UTMB that was the most important race of my life, through which I became widely known. If you are first during the race it is important to find ways to stay calm, to eat correctly and to manage the race wisely so that you wouldn't make mistakes because the joy of being first pulls your attention that can cost you the win.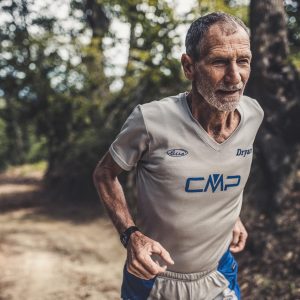 P.D. How could you describe the race in Corfu? The Corfu Mountain Trail? Did it seem to you as a nice athletic-touristic event? Would you recommend it to someone to visit Corfu participating in the  Corfu Mountain Trail? To get to know the beauties of the beaches and paths of the island?
M.O.: Generally Greece never dissapoints anyone. I have been 2 times at Olympus, went to Parnassos, they all are technical routes with rocky paths etc. Corfu Mountain Trail is a quiet technical race, wich is preferred enough nowadays. Since it is an island you have wide horizons from each side, something that softens the difficulty of the race. Definitely anybody can easily combine their holiday with the race.
P.D.-G.P. Corfu Mountain Trail is organised every year at the beginning of the tourist season, with the opening of the low-cost flights and hotels. What do you think about this?
M.O. I agree totally. There are cheap flights from Italy at this time of the year, in less then 2 hours you can be in Corfu. For example today morning I met a couple from Vicenza who saw me at the hotel and asked me what am I doing here. They said that they have come for 1 week to Corfu and they will run one of the races of your event. The Messonghi Beach Hotel that hosts the race is a quite big resort and is just at the location of the start and finish of the races. (except for the start of the 110 km). "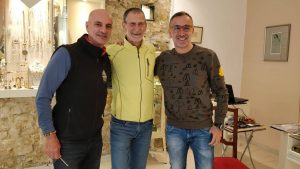 He is Marco Olmo. A runner who has written his own history as well in the mountains as in the deserts. We thank him for his time and wish him all the best and many more finishes. See you again our friend!
We hope you enjoyed the interview just like us!
Finally we would like to thankGianni Revis for the interview and translation from Italian and Pavlo Diakoumakos  . 
Corfu Mountain Trail Team.